TOWARDS THE INSTRUMENTALITY
Origins
Modern TRIZ has been developed by Professor Dr. Michael Orloff from the middle of 1980s but without calling it as Modern TRIZ yet. From the very beginning it was found that the theoretical frameworks (which became the basis for doctoral dissertation of Michael Orloff in the direction CAD) for modeling and transformation of complex systems in their design, optimization and verification, have a large applied commonality and can be successfully extended to such a scientific application area as generation of inventive ideas, and such methodology as TRIZ.
Close communication and cooperation with the company "Invention Machine Laboratory", Minsk, Belarus, established and led by Dr. Valery Tsourikov – a pioneer in creating first intelligent systems for generation of effective ideas with using TRIZ and founder in 1992 of world-known company "Invention Machine Inc.", Boston, USA, has only strengthened the author's intention to work in direction of further TRIZ development. And very soon this intention has become stronger after Orloff's experience in dissemination of software "Invention Machine" and "TechOptimizer" in Europe till 1997 through his German-Belarus joint company headquartered in Essen, Germany. And main reason for switching to a new study in TRIZ grounds has become Orloff's understanding from this experience that it was impossible to successfully distribute pioneering software without advanced training course.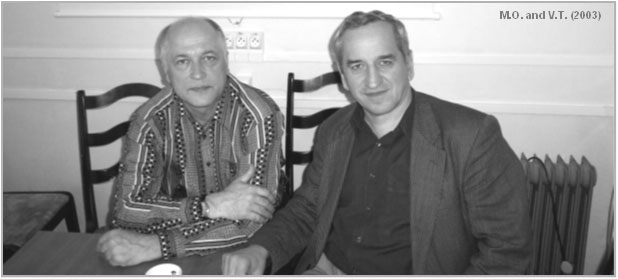 So, as already mentioned, at that time Dr. Tsourikov has created and globally promoted the world's first intelligent software based on TRIZ.
And Dr. Orloff has started new research from the very beginning – from the origins of TRIZ – and have been working to establish accurate models and generalized patterns of TRIZ. Actually the idea itself to structure and ​​simplify TRIZ was adopted from Valery much earlier, who once (in early 1990s) said that TRIZ needs a "democratization" to be made available not only for the elite, but for everyone.
Today, a simple and reliable techniques of Modern TRIZ have been successfully used for many years to rapid and right learning of thousands of students and professionals.
However, it took a long time to formulate, develop and test the basic ideas in the form of practice-oriented modeling techniques like Extracting, Reinventing and Meta-Algorithm of Inventing T-R-I-Z, and others.
At the same time it has been required to develop and test a considerable number of different software products – from simple systems (to support the search for ideas based on the primary models of TRIZ) to intelligent systems under the name PentaCORE, as well as the experimental "TRIZ knowledge bases" of various in complexity for industrial purposes under the general title "MTRIZ Idea Pool".
The results of these research and experimental works, consulting experience for industrial enterprises and research institutes, as well as experience in conducting numerous seminars and workshops in different countries (sometimes in the classroom with a few hundred or even a thousand participants) have become the basis of several books for teaching and practical purpose. The main of these books published in the United States, Germany, Russia and China.
Gradually and in parallel for several years, a system and technology for distance learning in TRIZ under the common name EASyTRIZ has been developed and introduced in practice.
To date
So, to date, mass-scale education in (M)TRIZ is arranged on the platform of basic methods and models.
We believe that it is a new era in TRIZ dissemination.
And we believe also that new level of TRIZ implementation should be possible after achievement of some "critical mass" in (M)TRIZ spreading. Of course, many specialists will be trained in higher TRIZ levels according to individual program at AiMTRIZ.
Therefore we have to state a fact that MTRIZ supplies the two basic technological platforms – for basic mass-scale training and for practical problem solving with basic (M)TRIZ instruments. This state could be represented in final generalizing figures as following.
The schemes of extracting and reinventing uses known state not for the prototype only, but also for the result. Then it is convenient to define these states as "was" and "became" (or also "is" of course). Here both the prototype and a new invention are in existence.

Reconstruction (reinventing) of known invention
as the transition from the state "was" towards the state "is"
Then the accumulation of contradiction models, the models of creative transformations and of all other models of TRIZ is based on a study of thousands of real big and small inventions, innovations and improvements.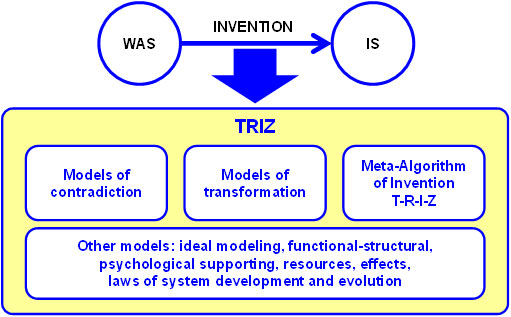 Accumulation of creative experience in TRIZ on the base of studying the thousands of
known inventions as transitions from the state "was" towards the state "is"
To create an effective idea according to TRIZ it is offered a range of models and methods, which also can be shown in the "opposite" diagrams.
The absolute distinction in comparing with reinventing scheme is that state "should be" means that new construction is unknown yet!

Inventing
as the transition from the state "is" towards the state "should be"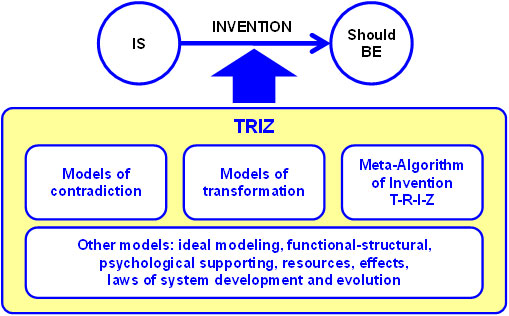 Applying the creative experience in TRIZ for making new invention
as transition from state "is" towards the state "should be"
Future
As it is mentioned above, it is already a very long time in the existence of classical TRIZ when her basic tools are staying almost in the same state lack of efficiency in which they were created by the author of TRIZ. Basic tools have played a positive role, proving their constructive and useful features, but they have not reached the level of efficiency that was declared by TRIZ apologists during the entire time of its application.
Exactly this dissatisfaction with the state of TRIZ basic tools was one of the first stimulus for the AiMTRIZ to launch new research to improve these basic tools.
First of all this required to create methods of extracting the models of transformation from existing artifacts and modeling the entire process of creation (invention) of a new artifact.
Further, based on these methods it has become possible to move to a new study of a wide experimental space to review all previously accumulated tools. And this work is still in progress. Nevertheless, its future opportunities to provide necessary efficiency for the basic tools have already be seen to us (look at picture below).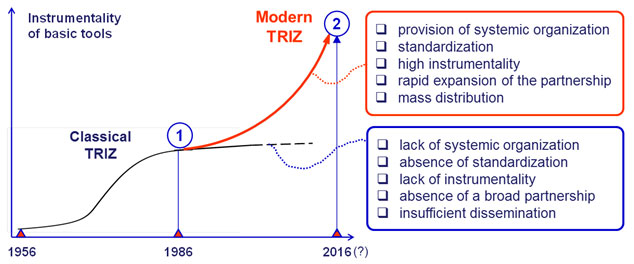 New system of (M)TRIZ tools should be developed according to new deductive spiral-like structure with standardized "selector" DISC (or also DISCOO) at the top: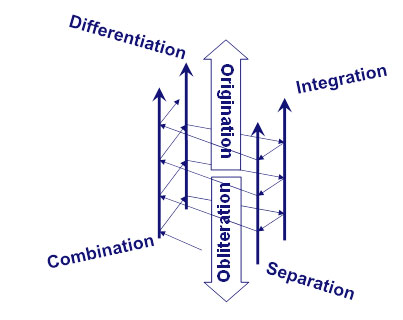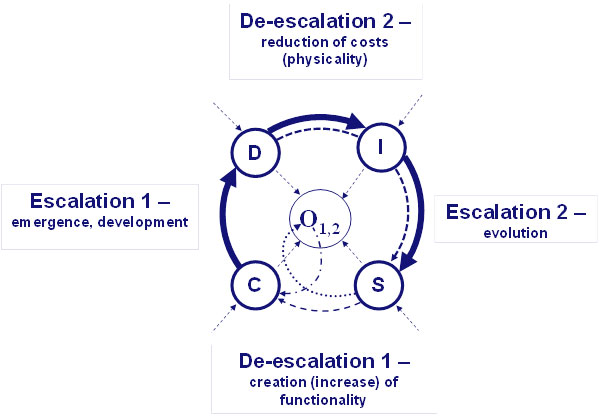 And further development of creative instrumentality has to be built at our known integrating concept PentaCORE: