s-TRIZ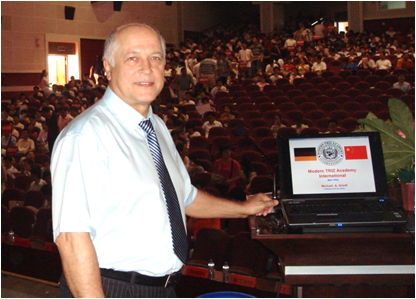 Introductory seminars are organized on the invitation of companies interested in implementation of MTRIZ.
The number of participants is not limited. Look here a workshop for 1000 participants!
Within 2-3 days of intensive work the participants study primary models and methods of TRIZ. In the middle of the final day they run the individual (!) examination.
The seminars are designed to prepare participants for studying full certification course according to MTRIZ Junior or Practitioner program.
Seminar participants subsequently complete training faster because of s-TRIZ methodology accelerates learning the basics of TRIZ.
c-TRIZ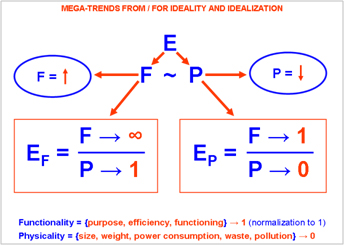 AiMTRIZ continually develops a model for continuous long-term partnership with companies to solve actual problems of the customer and to forecast company's development along with training the specialists on MTRIZ technology.
Partner-consulting has been realized after studying the features and requirements of the company-client, the development of a partner-consulting program and agreeing the terms and conditions of the project.
SPECIAL CONSULTING HAS BEEN REALIZED IN AREAS OF QUALITY MANAGEMENT, BUSINESS DEVELOPMENT AND IMPROVEMENT, AND REINGINEERING.
AiMTRIZ provides training on MTRIZ technology based on the following principles and possibilities:
- mass training standard in universal fundamental models MTRIZ mandatory for modern specialist,
- training the participants of Think Tank Teams in MTRIZ through the advanced programs,
- training the experienced and qualified specialists at the highest levels MTRIZ-skills.
Training is conducted on the basis of program
agreed with company's department of Personal Management.
d-TRIZ
Hundreds of companies were consulted over the past decade and a half, and dozens of projects realized by order of customer-companies including SIEMENS, SAMSUNG, and dozens companies from very different brunches as:
•space,
•aviation,
•micro- and nano-electronics,
•laser technology,
•medical engineering, incl. ultrasound devices,
•mobile communication,
•power generation and transfer, including solar energy,
•automobile,
•rail road transportation,
•modern electro-vehicles, etc.
Hundreds of inventions, many of which are patented by companies,
have been created for customer-companies or-and together with specialists
of customer-companies.
AiMTRIZ performs solving the problems set by the customer, usually in a limited time to solve and extremely high requirements to quality of solutions.
Solving problems is realized after studying the problem by specialists of AiMTRIZ and agreeing the terms and conditions of each project.
Confidentiality and other requirements to protect customer interests are guaranteed.
Publishing
There are more than 30 (M)TRIZ-books (including the e-format) published during last two decades in Russian, English, German, Korean and Chinese languages. Here are 24 of them.
Several of them are now popular and have used in education, including e-learning.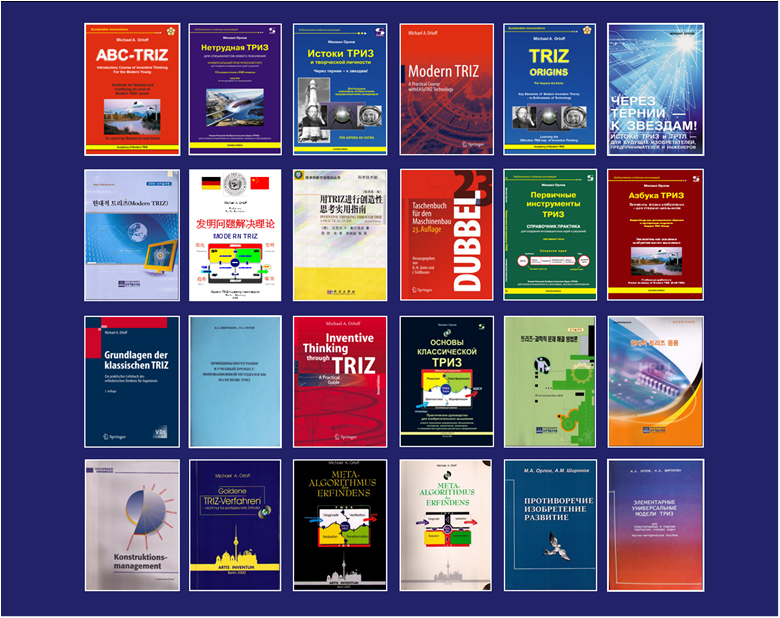 Software
The learning process consists of two major phases:
1) the study of the chosen course;
2) execution of the certification work.
Both phases are realized with the appropriate level of instrumental software EASyTRIZ Junior or EASyTRIZ Practitioner.
The educational process is fully automated and supported by e-server.
E-Server also provides convenient communication between the participants of training, as well as between students and tutors.
ATTENTION:
after graduation, instrumental software becomes a tool
to solve real practical problems at the user's workplace!